Leadmusic, Geneva - Switzerland
2 rue Albert-Richard,
+41 22 731 62 72

CHF 3,990.00
VAT 7.7% included. Without shipping costs.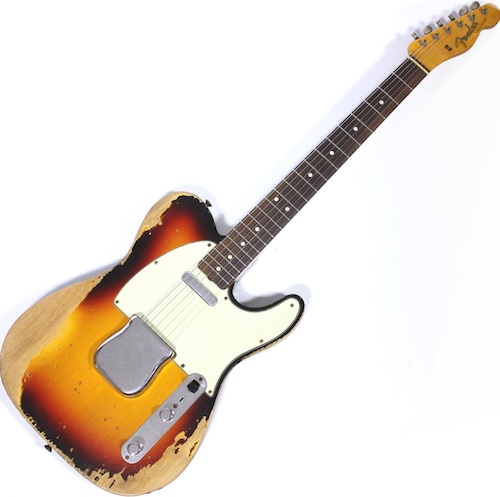 Information:
Back in 2014, Fender Custom Shop revealed a line of new Custom Shop instruments, and toured the USA with their Road Show. This amazing 1964 L-Serie Telecaster Super Heavy Relic is the very gutiar that was used at these Road Show, as well as sued to promote the line on fender Custom Shop's website. Already unique, it gets even more unique knowing that right after the Road Show, Nine Inch Nails's guitarist Alessandro Cortini (SONOIO, Modwheelmood, Jovanotti…) handpicked this one at the Custom Shop and kept it until I purchased it from him in summer 2018.
This incredible guitar is in excellent shape and only shows the Custom Sho's dents and finishes. Maybe some light playwear here and there, but the frets shows no dents or scuffs, perfect frets. The neck is perfect aswell, and shows a super nice grain. Playability at its best. Electronic is perfect, flawless working condition, and as you would expect, since that guitar was used to promote the range, fender picked it up and choose the best instrument for this Road Show. This guitar a wonderfull instrument, with lot of resonance and very lightweight. It already has a loud acoustic tone. When Alessandro Cortini picked it up in 2014 he was told by Dale Wilson that the fender Custom Shop often uses Master Built instrument for their Road Show or to promote a new range of Custom Shop instrument, but they don't label the guitar as such. Here with our instrument, we got the proof of this.
This great looking 1964 L-Serie Telecaster Super Heavy Relic from 2014 was part of Alessandro Cortini's guitars and he sold it to me in summer 2018 while I was at his place. You can trust this artist when it comes to good guitars, he knows his stuff. I once had my own Master Built Andy Summers LTD Edition Telecaster and there's no comparison with the actual guitar we sell, this Road Show Telecaster is a superb guitar with great craftmanship and excellent wood quality. This guitar really has a killer neck with amazing comfy satin finish. It comes with its original case, hangtags, goodies and COA
Specifications:
Masterbuilt original model for the 2014 Road Show
The one pictured on Fender's website
Unusual serial number, initially not intended for sale
Handpicked by Nine Inch Nails's guitarist Alessandro Cortini at the Fender Custom Shop in 2014
Alder body with thin lacquer finish
Maple neck with early '60s "C" profile
Round-lam rosewood fingerboard with modern 9.5" fingerboard and 6105 frets
Hand-wound pickups and modern wiring
Special L series neckplate
Vintage-style hardware
Complete with its original case, COA, documents, accessories and case goodies