Leadmusic, Geneva - Switzerland
2 rue Albert-Richard,
+41 22 731 62 72

Ask for our offer
VAT 7.7% included. Without shipping costs.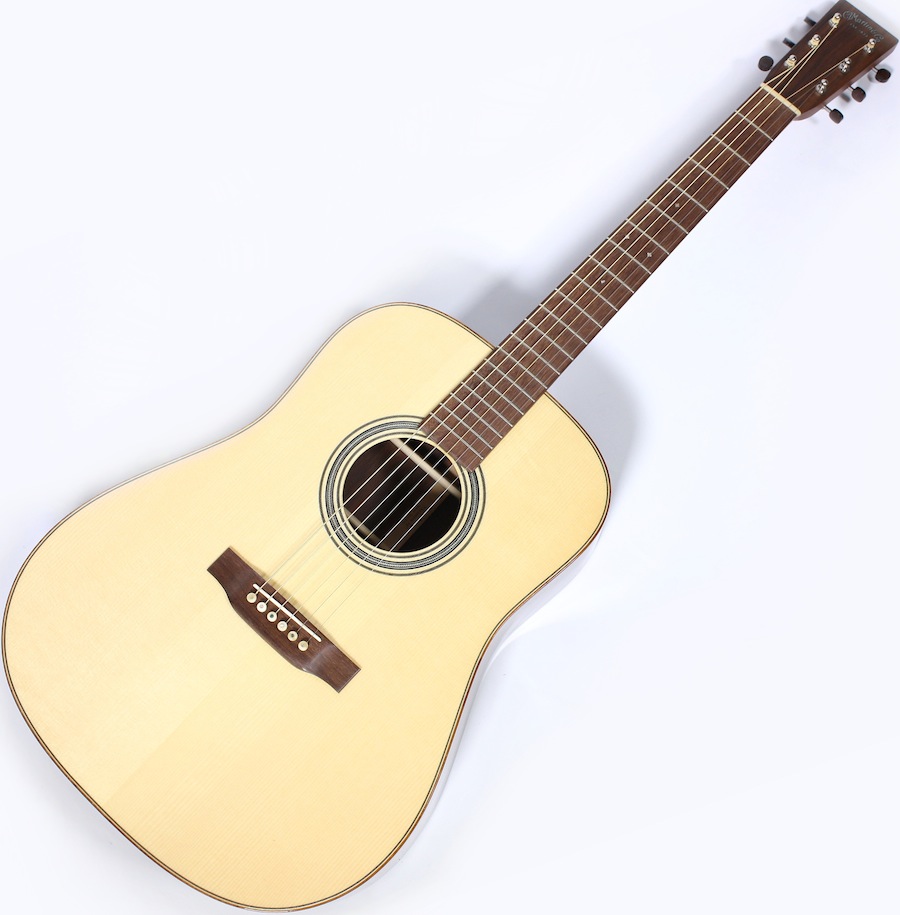 Information:
Here we have a fantastic looking and sounding Custom Shop Limited Edition Martin CS-21-11 made in 2011 and only available that year. Made in the Martin Custom Shop, in a unique version of vintage Style 21, the CS-21-11 was the first guitar, along with the CS-35-11, in the new the CS Series that offers unique guitar designs, merging traditional and innovative features and materials. Never before had the Custom Shop offered exclusive models, rather than just building special orders to fill customer requests. While the CS-35-11 was designed as a thoroughly modern Martin, it was the CS-21-11, with its exquisite vintage vibe that captured the collective guitar player imagination, selling out in weeks a run that was expected to take the entire year to exhaust.
The primary goal of Fred Greene, Vice President/General Manager of Guitars at Martin, when he designed the CS-21-11, was to make the lightest, most responsive dreadnought possible. To that end, he had them weigh their entire stash of Madagascar rosewood, piece by piece, and then selected only the lightest 10% for this model. The lack of weight makes the guitar extremely responsive for the soft-touch player yet the Adi/Madi combo allows you to drive it hard.
Madagascar rosewood has its own unique voice, which has properties of other rosewoods, while also having an almost-mahogany like ring from the unwound treble strings. But the CS-21-11 takes all that Madagascar/Adirondack ring and tone, and infuses it into a guitar that is more like a pre-war D-18 in terms of its responsiveness, cavernous open basement, and dry, woody resonance than most any modern guitar I have played. And yet, it has its own personality, which stands apart from all other Martins.
The CS21-11 wouldn't be a Custom Shop Martin if it didn't have some unique features setting it apart from the rest. No one likes having back pain after playing a gig, so Martin set out to create one of the lightest guitars it could with the CS21-11. Only the lightest 10% of material weighed was used in the making of this amazing guitar. In a nod to the pre-war Martins, the Custom Shop used hide glue and the traditional T-bar trussrod. A hand-carved cedar neck topped with a Madagascar rosewood fretboard completes this custom shop guitar
This second hand guitar was really barely played and there's ony one scratch on the back of the neck and one almost invisible 1mm2 dent on the top, but clearly, almost impossible to see it. Comes with its original case and document.
Specifications:
Limited Edition Custom Shop CS-21-11
hide glue construction
all solid tonewoods
Madagascar rosewood back and sides
Madagascar rosewood fingerboard and bridge
Adirondack spruce top
flamed koa binding
1-3/4" Spanish cedar neck hand carved with modern shallow profile and vintage T-bar neck reinforcement
Authentic Series bracing circa 1940 style
scalloped braces
tone bars and small maple bridge plate tucked under an X-brace set in the rear-shifted position
cosmetic appointments based on vintage Style 21
silver C.F. Martin headstock logo
Waverly open back tuners with snakewood buttons
original case and documents