Leadmusic, Geneva - Switzerland
2 rue Albert-Richard,
+41 22 731 62 72

Ask for our offer
VAT 7.7% included. Without shipping costs.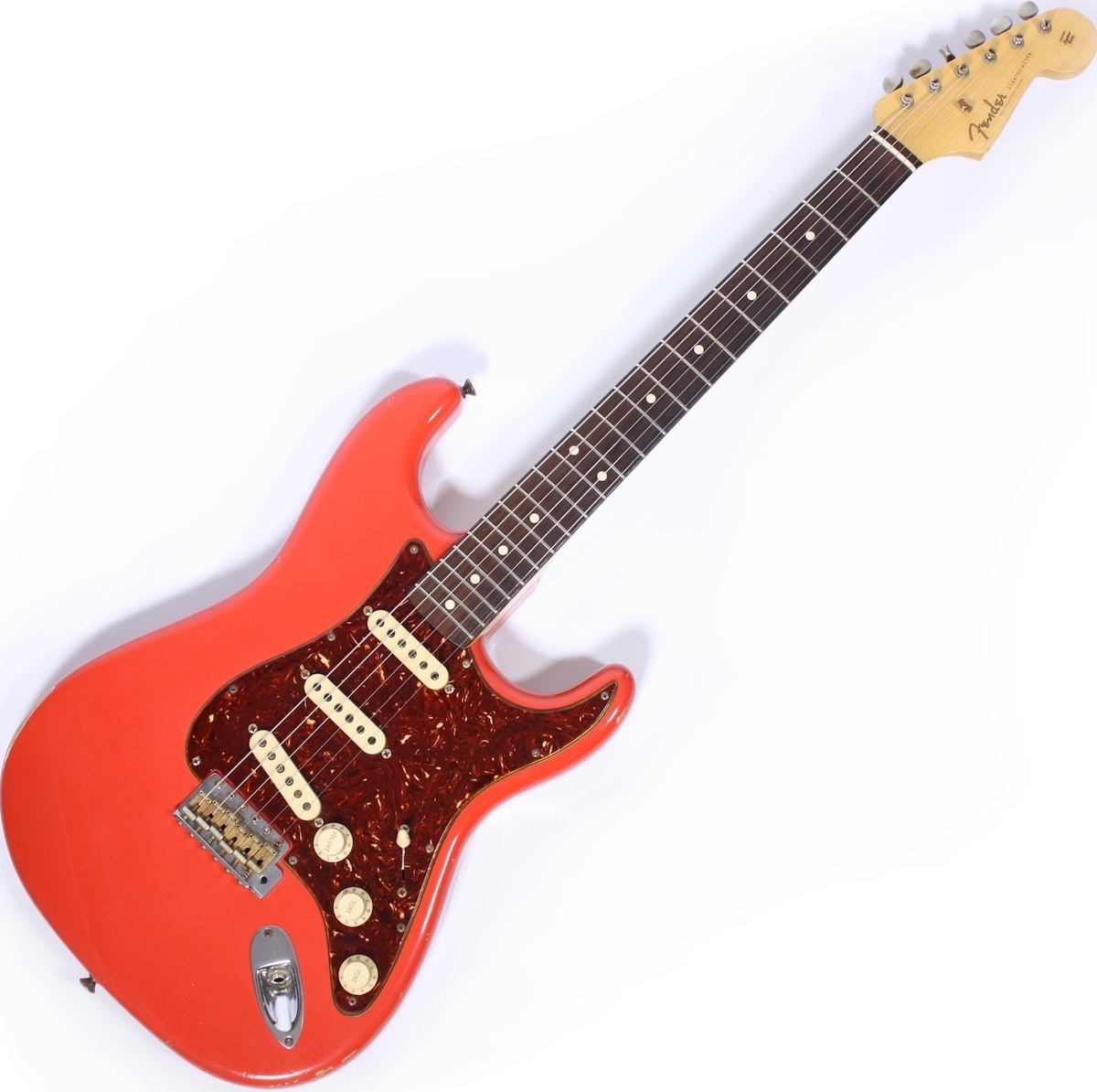 Information:
Fender introduces the Fiesta red 1962 brazilian rosewood Stratocaster in 2010 as a very limited edition with a superb Braziian rosewood fretboard. Only 250 of those amazing strat were supposed to be produce. We actually had 4 among the 50 or so instruments available for Europe, but as Fender stopped the production before the end of the run and asked for the guitar to be shiped back to USA due to export documents missing, who knows how many were built and in the end, how many are still around… Anyway, here's one of them, and this gutiar was part of a collection and really barely played. It shows no playwear at all and looks like when we sold it in 2010.
This guitar is a gem: great looking Fiesta Red finish, very lightweight 2 pieces alder body and an amazing and great looking brazilian rosewood fretboard.Those limited edition are great guitars, with twang and tones like very few other instruments. The brazilian Fretboard gives a rich and precise attack and tone. And as a limited features, this brings also this guitar in more sough after instrument.
In the spirit of the original, Fender's '62 stratocaster, this guitar comes equipped with a Big 65 "C"-shaped maple neck, a modern 10" radius Brazilian Rosewood fingerboard, three Custom Handwound Abigail Ybarra vintage stratocaster single-coil pickups, a vintage 62 style bridge and features a modern circuit with a five-position switch. Deluxe Blond Hardshell Case, certificate of Authenticity and accessories included.
Specifications:
2010 LTD ED 62 strat braz rw
2 piece light alder body, Fiesta Red finish
Brazilian Rosewood Fretboard
65 big "C" neck profile and fretboard radius of 10″
Handwound Agibail Ybarra Vintage Strat Pickups
aged 4-ply Tortoiseshell pickguard
Neck: straight grain maple – from end to end – black and dirty
Dots: Clay
21 Frets: 6105 Dunlop
Decal: 62 Fender Stratocaster Spaghetti
Keys: Vintage Kluson type
Hardware: Chrome/Nickel
Wiring: 1 Volume – 1 Tone – 1 Tone / aged white knobs 5 Way Switch with aged white knob and Modern Wiring
Case: Blonde Tolex with Limited Edition logo, hangtags, goodies and COA
Limited Edition Certificate 250 worldwide initial run, many were not built and commercialised