Leadmusic, Geneva - Switzerland
2 rue Albert-Richard,
+41 22 731 62 72

CHF 9,290.00
VAT 7.7% included. Without shipping costs.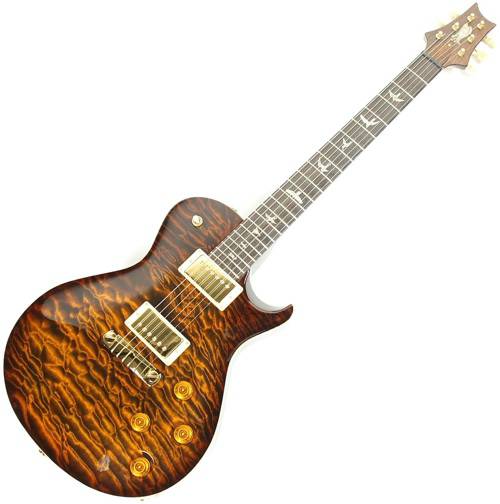 Information:
Paul Reed Smith Private Stock Singlecut model. An early Private Stock – #280 and a pre-lawsuit Singlecut. Built 4-25-2001. This one has an incredible one piece quilted maple top – you don't come across tops of this caliber often and one piece tops are even more rare. The Brazilian Rosewood fingerboard has nice and dark grain that is quarter sawn and obviously from old growth Brazilian. The Tiger Eye Sunburst is gorgeous and a perfect compliment to the woods.
This guitar has been expertly set up and plays perfectly. There are no buzzes, rattles or intonation issues here. Strummed acoustically, it sounds alive and resonant with a natural sustain that rings on and on. Hold the guitar pressed against your body and you can feel the string vibration through the entire guitar. The #7 humbuckers capture the complex overtones and open quality of a medium hot PAF pickup with a clear, bell like top end and a tightly focused bass. With an excellent string-to-string balance, complex chords sound detailed and articulate, while single string passages have a smooth, fluid quality that compliments the guitar's inherent sustain.
The neck pickup naturally sounds a little bit darker than the bridge pickup, but there's not even a hint of the muddy bottom end that frequently afflicts lesser humbuckers in this style of guitar. The bridge pickup, although hotter and more aggressive, remains warm and full- bodied with absolutely no trace of harshness. Using the individual volume controls to balance one pickup against the others yields a myriad of subtle tones. All of the classic rock sounds are present and correct, with none of the heavy-handed, overbearing mid-range of some modern Les Pauls.
100% original. The guitar is light weight for a single cutaway style guitar at 7 pounds, 14 ounces. In excellent condition. The neck is straight and true. Frets are perfect and show no wear. Shows some extremely faint surface wear (light pick wear on top and button wear on the back) – so slight that it won't show up in pictures and such that you have to hold the guitar at just the right angle in just the right light to even see it. We only mention it for the sake of accuracy in our description – other sellers would most probably not. No dings, dents, or any structural issues. Nothing has been modified or repaired.
Specifications:
* Singlecut pre lawsuit model
* Private Stock Grade Woods
* Semi-Hollow Body
* One Piece Quilted Maple Top
* Brazilian Rosewood Fingerboard
* Brazilian Rosewood Headstock Overlay
* Brazilian Rosewood Truss Rod Cover
* Mahogany Body and Neck
* Stop Tail bridge
* Green Heart Abalone Bird Inlays with 14K Gold Outline
* Green Heart Abalone Eagle Headstock Inlay with 14K Gold Outline
* 22 Frets
* Gold Hardware
* Pickups #7 Bass and Treble
* Tiger Eye Sunburst Finish
* Original PRS Hardshell Case, with Original Manual, PRS 2001 Accessory Catalog, PRS Sticker and Tools