Leadmusic, Geneva - Switzerland
2 rue Albert-Richard,
+41 22 731 62 72

Ask for our offer
VAT 7.7% included. Without shipping costs.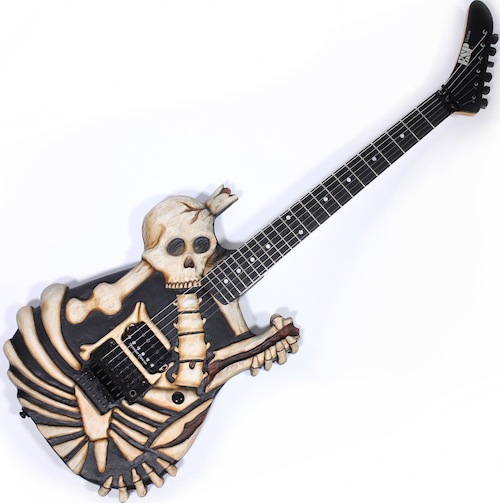 Information:
Aouch !!! Here's a unicorn, or at least a super rare bird… Out of only 25 pieces built by the Custom Shop of ESP in 1999, here's probably the cleanest one you can find. The story behind the Skull & Bones guitar is pretty cool. In the mid 80's, Dokken, with their super-talented guitarist George Lynch, got steady success with their infamous video "It's Not Love" (featuring George and crew riding a flatbed truck through the streets of L.A.). That video is where the Skull and Bones guitar got famous. That was in 1986 and that specific and unique guitar was built by George Lynch's neighbor, Johnny "J. Frog" Garcia, a Hollywood special effects artist. He carved the body from a solid piece of maple, and it is said that he even added his own tooth to the skull. When George Lynch showed up for the video recording of Dokken's "it's not love" song, ESP reps wasted no time applying the ESP logo to the headstock. After years of duty, the guitar now hangs silently in New York City's Hard Rock Café.
And so, only in 1999 finally has ESP created a limited run of 25 replicas, each numbered and with a certificate of authenticity signed by George himself. Our guitar was listed (and still is to this date) on the Synergy Guitar website for 17999$. This instrument was part of a collection and really barely played, it shows no scuffs, playwear, dents, dings or any damage, very close to mint.
This super rare instrument comes with its original hardcase and COA signed by George Lynch.
Specifications:
original ESP George Lynch Skull & Bones limited edition
handbuilt in 1999
one of 25 pieces made worldwide
carved-sculpted maple body
maple neck
ebony fretboard
Screaming Demon Seymour Duncan pickup
original Floyd Rose
incl. original hardcase
incl. original COA signed by George Lynch