Leadmusic, Geneva - Switzerland
2 rue Albert-Richard,
+41 22 731 62 72

Ask for our offer
VAT 7.7% included. Without shipping costs.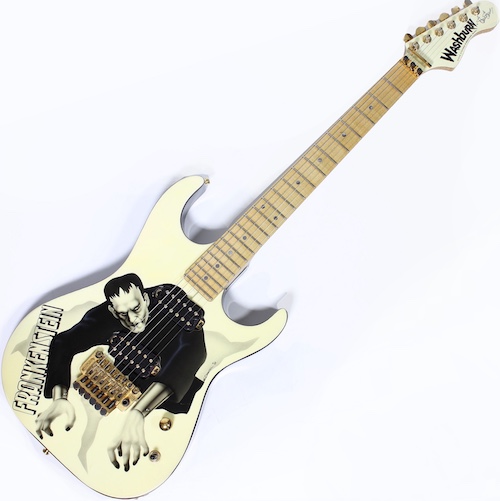 Information:
A super rare one !!! Back in the early 90's, Steve Stevens had left Hamer endorsment and went to Washburn with the idea of a clone of his luminescent Charvel. With Steve's interest in sci-fi movies and monster films, Washburn decided to have an airbrush graphic of the famous and universally known Boris Karloff version of the most recognized monster in the movies, based on Mary Shelly's novel, Frankenstein. The graphic was based on the original 1931 Frankenstein movie poster with Boris Karloff and many of the Washburn SS100 Frankenstein guitars had the legendary glow in the dark, luminescent paint. It is said that Steve Stevens still owns the prototype he played with Vince Neil in 1992.
The rarity of these models are known. I've seen number 1, 3, 4 and 14 surfaced. Plus numerous SS100 without the Steve Driscoll signature under the graphic, some with non glow in the dark finish, some with pickups rings, and some forgeries and clone were sold as well. Steve Driscoll remembers having paint 50 to 60 guitars, but as Washburn didn't get permission from Universal Pictures to use the Boris Karloff's movie graphic, Washburn resigned to commercialise all the SS100 the hade paint. So it's barely possible to tell if 50 or less of these guitares were sold back in 1993 and maybe 1994.
Our guitar in number 12 and has the glow in the dark paint job with the airbrushed graphic by the artist Steve Driscoll. The first quantity produced were airbrushed and after that a stencil system of painting was utilized. It's in excellent, close to mint condition, and only one or 2 flaw are visible, among them when you turn the light off, a small portion, like 2cm2 of paint, on the upper side of the headstock, is not glowing in the dark. Like a touch up or a repair. Other than that, this guitar is almost flawless, except some super light surface scratches and minimal playwear, one or 2 small dents onthe top, and a kind of weather check or finish cracks under the Flod Rose and near the volume pot. Frets look new, hardware is perfectly Gold, no rust, no surface flaws, no signs of wear. It definitely barely played and was never exposed to a reharsal room or a stage. That one was part of a collection, and stayed in the same collection for years.
Comes with an original Washburn case.
Specifications:
hand painted airbrush graphic by Steve Driscoll
luminescent glow in the dark painting
1993 original first batch production
poplar body
one piece quartersawn maple neck
jumbo frets
TB4 Seymour Duncan pickups
Floyd Rose
gold hardware
original Washburn case incl. (pictures shows a Gator case, but we had and will deliver the Washburn case)