Leadmusic, Geneva - Switzerland
2 rue Albert-Richard,
+41 22 731 62 72

Ask for our offer
VAT 7.7% included. Without shipping costs.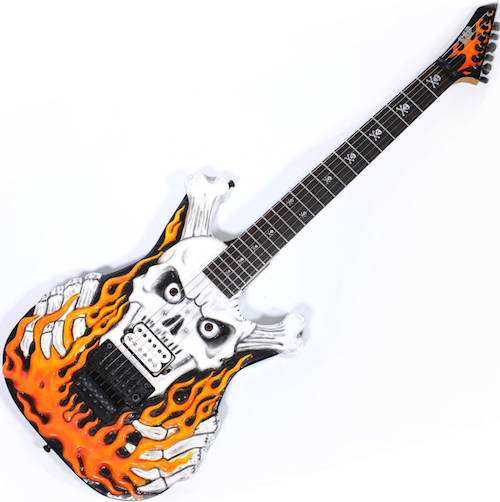 Information:
Ah man, these guitars are super rare, as only 50 pieces were built in 1992 by the ESP Custom Shop. This amazing Skull & Bones limited edition bears serial number 2 and was part of a swiss collection for all its time since purchased new. It probably never played as the condition could easily be listed as New Old Stock. Amazing instrument in such condition, complete with its original COA and case.
So, only a few surfaced on the internet, with prices ranging from 7500$ to 8000$, but with informations and specifications that differs a bit from our guenuine original Skull and Bones from 1992. Our guitar has its serial number written on the back of the headstock (some were printed) and has no ESP Custom Logo, as some of this serie had. Our COA date is January 7th 1992, so very early in that serie, and our instrument has a Khaler licensed Floyd, some later Skull & Bones came with original Floyd.
A super rare bird, in outstanding condition, no doubt it's the cleanest you could ever find.
Specifications:
original 1992 Skull & Bones Limited edition
#2 out of 50 pieces worldwide
part of a collection, was probably never really played, NOS condition
alder sculpted body
Painted by Famous ESP Custom shop painter Eddie Meeks
quartersawn maple neck
high quality grade rosewood fretboard
original Kahler licensed Floyd Rose tremolo
original  Seymour Duncan JB pickup
Jumbo frets
skull and crossbones inlay
original COA incl.
original case incl.