Leadmusic, Geneva - Switzerland
2 rue Albert-Richard,
+41 22 731 62 72

CHF 3,090.00
VAT 7.7% included. Without shipping costs.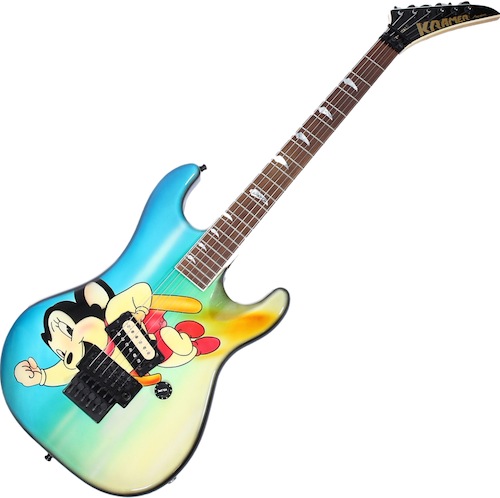 Information:
How rare, how nice and how cool is this guitar !?! As a teenager I was looking at these custom graphic serie from Kramer and wasn't able to afford one when available in the late 80's, so it makes me something to sell this one today. This wonderfull 1987 Kramer Baretta I Mighty Mouse Kline graphic guitar is in amazing almost NOS condition, and was part of a collection since its purchase new back in the late 80's. It clearly stayed hung on the wall and was very barely played. No scuffs, dings, dents or any playwear anywhere.
Each custom graphic guitar from Kramer were unique as even if the main idea were the same on some graphics, the colors and the composition were always changing, as each were air-brushed by the artist. The Mighty Mouse were done by Dennis Kline, and our has vivid colors and perfect drawing. It's a real master piece. Also, condition makes it very special. These USA Kramer were built with ESP parts in the USA and were rarely sold in Europe back then.
Our instrument comes with its original hardcase (that shows some minor scuffs and tears from stocking) and original tremolo arm.
Specifications:
original 1987 USA Kramer Baretta I
Dennis Kline "Mighty Mouse" custom graphic
mint condition (was part of a collection, never really played…)
Floyd Rose bridge
Seymour Duncan JB Humbucker reverse Zebra colored
M6 Schaller tuners
thin profile neck
Jumbo frets
rosewood fretboard
poplar body
incl. original case and tremolo arm