Leadmusic, Geneva - Switzerland
2 rue Albert-Richard,
+41 22 731 62 72

CHF 3,690.00
VAT 7.7% included. Without shipping costs.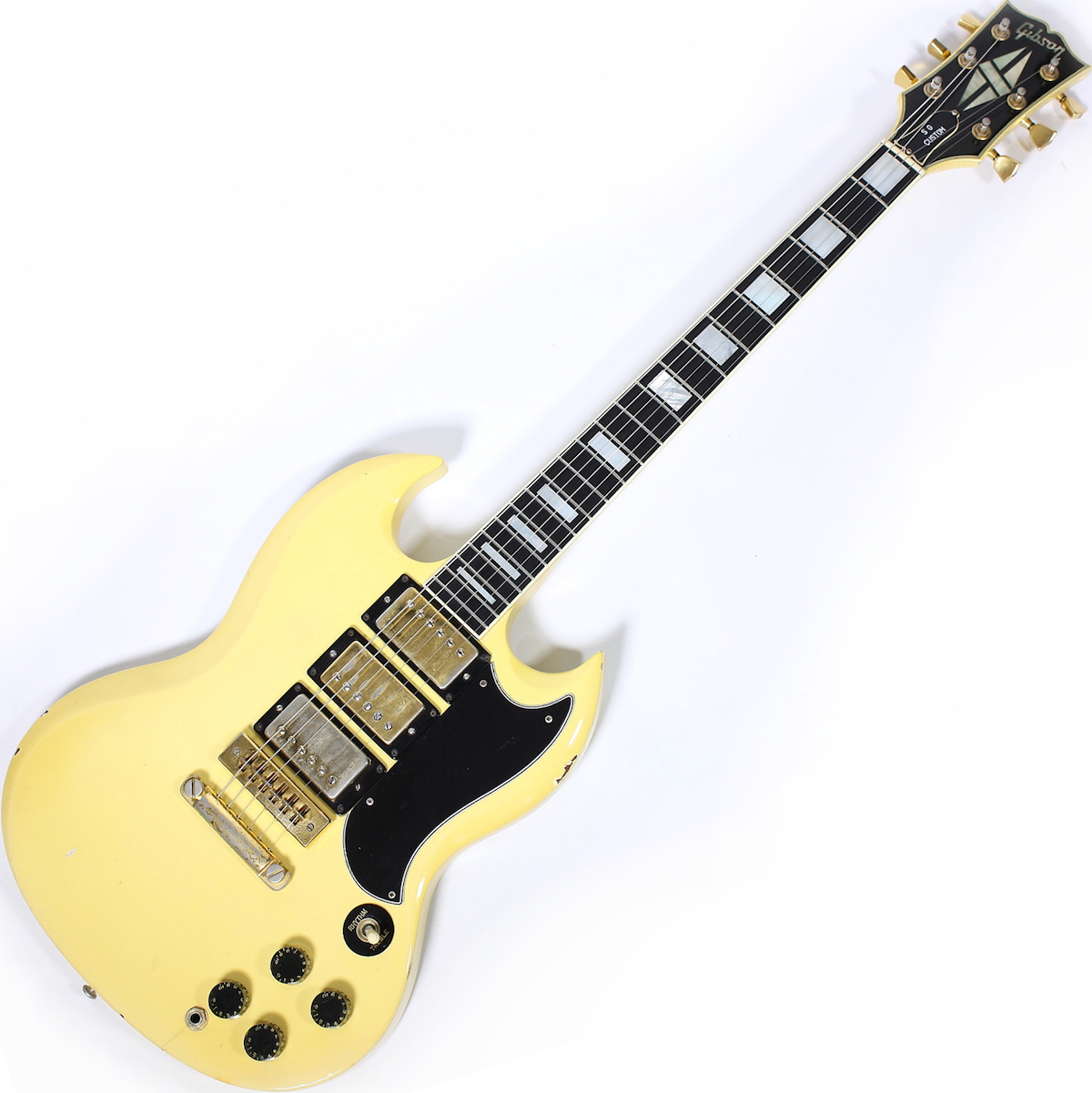 Information:
Here we have a very nice and all original 1976 SG Custom in Olympic White finish that faded to yellow, as almost always. This instrument is in very good condition (well, some would say excellent condition). It shows some honest play wear for a 1976 guitar and has some various nicks but very little chips, dents & dings, mostly concentrate on the sides… In the end it's almost only surface scratches, weather checking & finish wear that you'll see on the top and back of the guitar. A true vintage look with a gorgeous patina.
All original, yes, but some small alteration had been done once. The pickups covers were once removed, and the electronic cavity had most of the solder disturbed. Not sure if a previous owner changed pickups once.., Anyway, all 3 original pickups (impressed pat# 2.737.842) are good, with a high output level, and all pots are ccorect, with pot code # 137 76 XX (can't read the month as solders covers it) and 70 028 part number. Hardware, plastic pickups rings, frets, jack, everything is original but a strap button screw. A fret leveling and dressing was done by a professional luthier, action and playability are perfect, though the frets are on the low side, still with enough meat let.
This lovely instrument weight only 3.46 kilos and comes with its original hardcase.
Specifications:
original 1976 SG Custom
original Olympic White finish blended to cream
solder touch up on electronic cavity
original Gibson pickups Gibson pat# 2.737.842
7.36K bridge, 7.15K middle, 7.09K neck pickups outputs
pickups covers were once removed
original hardware
original plastics
original strap buttons (one screw is not original)
original frets & binding
3.46 kilos
original frets with leveling and dressing done by a pro luthier
original hardcase