Leadmusic, Geneva - Switzerland
2 rue Albert-Richard,
+41 22 731 62 72

CHF 5,590.00
VAT 7.7% included. Without shipping costs.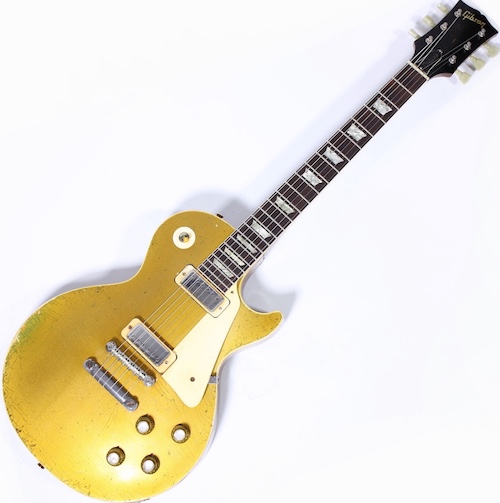 Information:
That Les Paul Deluxe was built in 1970 and it sports several features that helped us dating it from 1970, including the CBA 811 1158 500K XX701X (the last digit is under the solder joints), a serial number in the low 920'000's, a 3 pieces mahogany neck with small volute and no made in USA stamps… This wonderfull instrument had a refret with jumbo frets in very good condition with low action, still plenty of meat left. No other changes done except the original tuners, that are actually in the original case, were switched for re pro Kluson tuners with plastic button. No extra holes or modifications were done, so you can replace the orignale tuners back whenever you want.
Condition is, well…That guitar was a workhorse and played a lot. It shows scares, scuffs, dents, dings, discoloration and weather check and some wood are apparent on the top. Bucklewear, dents on the back of the neck, you can definitely see it played a lot, and once you hold it and plug it, you understand why these old guitar that played so much are way better instruments than those who were kept mint. This guitar is a killer instrument, surely the best Les Paul from the 70's we had so far.
That rare early 70's Les Paul Deluxe is a dream to play and sounds like it should, powerfull and with more presence and more bite than a regular Les Paul Standard. Also, these pickups a absolute monsters and scream. The neck and frets are really wonderfull. This instrument plays like butter and since it's not as heavy as almost every Les Paul from the same era we tracked on the net and we had so far (yes, it's only 4.1 kilos) you'll rock on stage with it. An original 70's case is included.
Specifications:
original 1970 Les Paul Deluxe
serial number in the low 920000
CBA 811 1158 500K XX701X(as the last digit are always under the solder joint on our instrument…)
pancake mahogany body
3 pieces mahogany neck
small volute / no Made in USA
early 70's original Gibson Deluxe metal machine heads in case
non original Kluson plastic button machine heads installed, no extra holes
all original electronic & solders
original case incl.