Leadmusic, Geneva - Switzerland
2 rue Albert-Richard,
+41 22 731 62 72

CHF 7,950.00
VAT 7.7% included. Without shipping costs.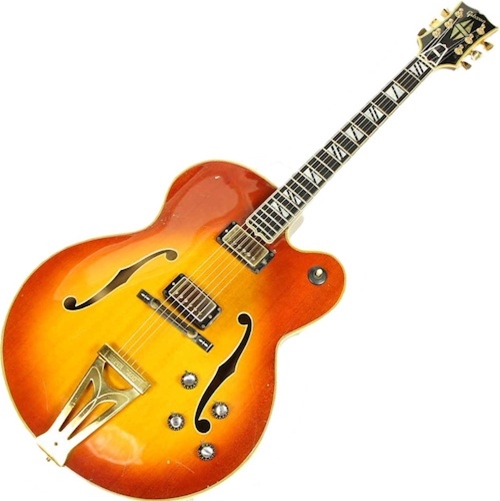 Information:
Back in 1970, Gibson had four masterpieces in their catalogue: the Citation, the Johnny Smith, the ES 400 and the L5CES. These were the most expensive guitars Gibson ever produced and the craftmanship and quality was perfect, or close to it. Anyway, we get this 1970 Gibson Super 400 CES some time ago, and finally decided to prepare it and propose it on sale.
That guitar is an original Gibson Super 400 CES from 1970. There's no big issue with it, only one small crack on the side of the back of the headstock was professionaly and properly repaired, with no finish touch up. You can spot that on the pictures. The solid spruce top is very nice, with some scratches, and only a few dents here and there and one hairline crack close to the control buttons. It was not repaired and is actually very thin, barely visible. That guitar was played, and well played. The back of the instrument presents a bucklewear and some scratches. Nothing severe nor big, but it's here. Also, the whole gloss finish varnished a bit, and gives a very great looking vintage style to the instrument.
The 3 pieces maple neck is close to perfect, with a great looking flame maple. The ebony fretboard is in perfect condition, no dents or damages at all. Frets are original and were professionaly profilled and dressed recently, very clean, with a lot of meat left to play. The instrument was mostly played with flat wound strings. Anyway, the comfort and playability is absolutely amazing, and this guitar sounds as it plays: fantastic.
This original 1970 Gibson Super 400 CES comes with its original Gibson case in excellent shape, with all latches fully functional. Only the handle is fragile.
Specifications:
•    High-grade spruce, perfect grains and finish
•    Maple back and sides
•    3 pieces figured maple neck
•    Multi-ply black and white binding on both the top and back
•    Single-ply white binding around the f-holes
•    Gold hardware
•    Ebony bridge
•    25½-inch scale length
•    20-fret ebony fingerboard with pearl block inlays and multi-ply black and white binding
•    Five-piece split diamond motif inlay on the headstock
•    Original Pat.Number pickups
•    Original electronic
•    Original tuners
•    Original bridge
•    Original case incl. All latches are perfect, handle is loose