Leadmusic, Geneva - Switzerland
2 rue Albert-Richard,
+41 22 731 62 72

CHF 6,990.00
VAT 7.7% included. Without shipping costs.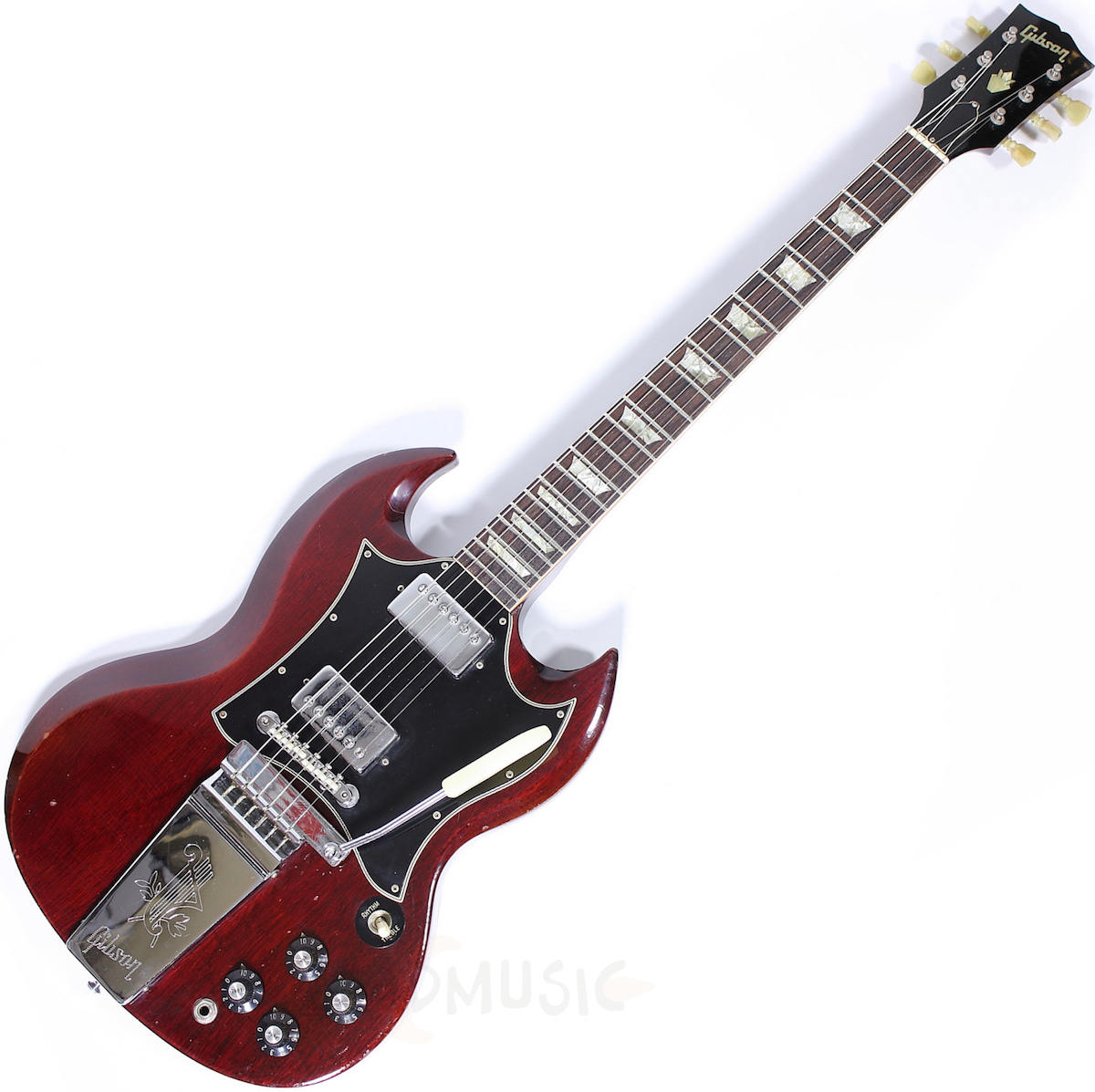 Information:
Wow, here's an all original and very good to excellent condition 1968 Gibson SG Standard. This amazing piece of history features original Kluson tuners (comes now fitted with repro brushings, the original brushings are incl. in the case), Pat # pickups, original hardware and parts, original knobs, original pots and wiring harness with unmolested solderjoints, right down to the original strap buttons and comes with a non original period correct case. Also, the original cherry red finish has not at all faded to a dull brown, it still has all of its red color, this is rare enough to be said…
There is someplaying wear, numerous very small nicks and dings along the bottom body edges, some more important dents but no buckelwear. Nothing saver and nothing to worry about. There were 2 hairline cracks on each sides of the neck pocket that has been professional glued and repaired. Neck was not broken or cracked and the repair is barely noticeable. Also, this instrument had for a while Schaller tuners, but the original tuners were included in the case and were installed back. We barely notice one of the Schaller screw hole.
The original frets are very good and the confort is amazing. The neck is very confy and the action and playing feel are among the best we had so far on these early 60's Gibson. The truss-rod, machine heads and electronic are in perfect working condition. Also, the tone is simply outstanding and this guitar sings. It plays and sounds as few other SG's I had in my hands the past 27 years of my vintage collection journey, except the 61 Standard I kept for me and still own… This all original 1968 SG Standard is a killer player but can also enhance any guitar collection. They're rare, and in this condition, they're even rarer.
Specifications:
1968 Gibson SG Standard
original hardware, Vibrola, machine heads, repro brushings installed (originals incl. in case)
had Schaller machine head for a while
no volute, no Made in USA stamps
all original electronics, pickups, undisturbed original solders
original pot with #CBA-811-1158 pot codes
original pickups with pat# 2.737.842 impressed
original nut, buttons, switch tip
original frets were leveled and polished, no playsear, still lot of meat left
2 sides neck pocket cracks / hairlines were professionaly glued and repaired
non original case