Leadmusic, Geneva - Switzerland
2 rue Albert-Richard,
+41 22 731 62 72

Ask for our offer
VAT 7.7% included. Without shipping costs.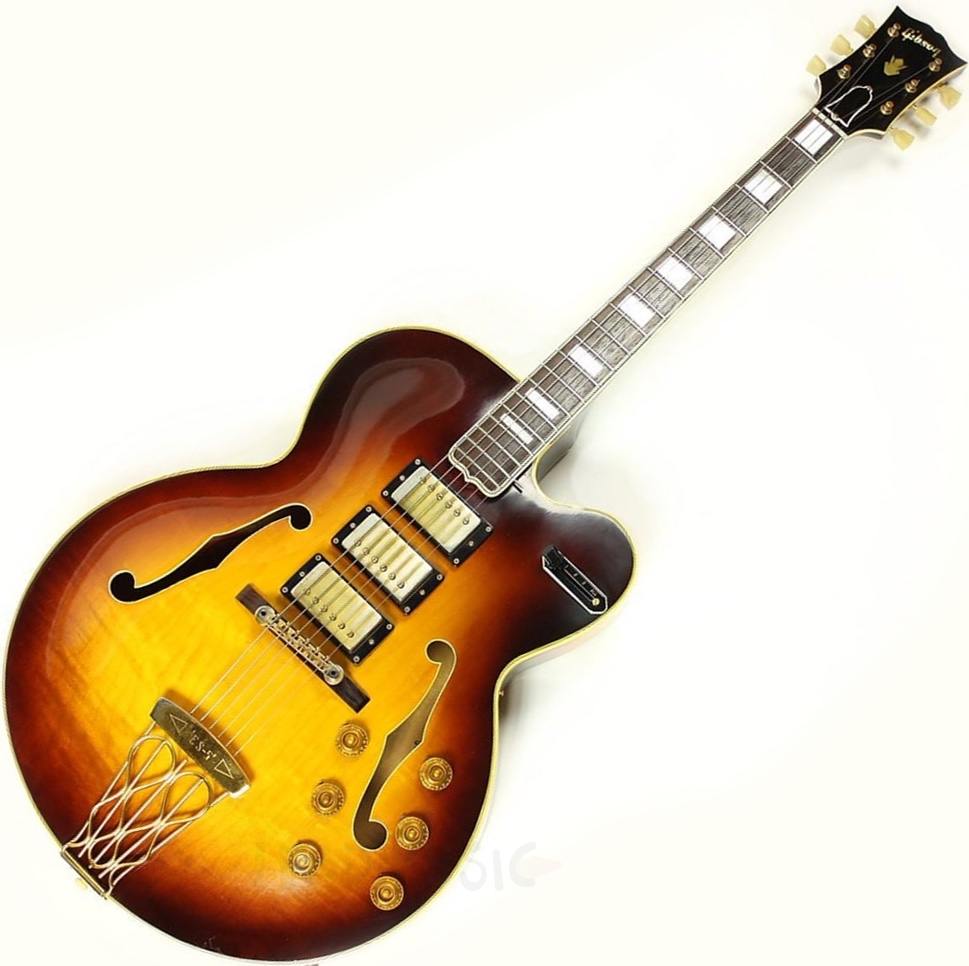 Information:
Here's an amazing find, built in 1957. This wonderfull Gibson ES-5 Switchmaster is the cleanest we've seen among vintage guitar shows, inventory from fellow vintage guitar shops owners and even the internet. We got from time to time some über clean vintage guitars, and this one is truly incredible. It only shows some patina and playwear at the back of the neck, where some chords were strummed during its entire life. One or 2 small dents here and there, some very light surface scratches, but the finish and the hardware remains in vibrant and perfect condition. That guitar shines, really.
Beautiful, nicely vibrant and not faded tobacco sunburst finish has some very nice mild to high flame on it, especially on the back and neck. The ES-5 were basically built like the ES-175, but Gibson used figured laminated maple for the back, sides and top of the ES-5. All three pickups are genuine and unmolested PAF and are real strong and have vintage, classic PAF tone in total abundance. These pickups are perfectly working, not microphonic or weak, and the gold of the covers is only lightly faded on the sides. Basically, with the combination of a volume and tone control for each pickup and with the 4 way Tele type switch in 'ALL' position you can get any tone you like and mix it to your hearts content on the 6 knobs that adorn this superb and clean ES-5 Switchmaster. The confort and ease of play are here, and the neck is very comfortable to play, especially if you like big neck. There is only one wear spot on the neck near the headstock, and this wear clearly indicates that this instrument was only gently played for strumming chords. It finally barely played as the condition is really breathtaking. The original pickguard has not warped and is included in the original case. Original frets have almost no wear. When we got that guitar it was fitted with original Gibson Hi-FI flatwound strings with the red silk at the beginning of the strings. Actually this guitar is a dream to play, low action with perfect playability all across and up and down the fingerboard. It could benefit a fret leveling but we'll leave that option tot he new owner. No rutting on the fingerboard except some very ligt on the first few frets where one would strung a E, A or C chord… Perfect neck and perfect commdition.
All hardware is correct and barely shows any sign of use and playwear. Only the ABR-1 has some wear on the edges, but it still shows a vibrant gold finish. Also, the case is its original brown lifton with pink interior and is, like the guitar, in excellent condition with all latches perfectly working.
Specifications:
all original 1957 ES-5 Switchmaster
one of only 56 built in Sunburst finish back in 1957
figured laminated maple body
figured solid maple neck with brazilian rosewood fretboard
gold parts
all original unmolested PAF pickups
8.04K for the neck pickups, 6,85K for the middle pickup and 7,82K for the bridge pickup output levels
all original electronic
all orignal parts and hardware
original Kluson waffle back tuners
original super clean Lifton brown/pink case