Leadmusic, Genf - Schweiz
2 rue Albert-Richard,
+41 22 731 62 72

Preis auf Anfrage
UVP: CHF 159.00
incl. 7.7% MwSt. Ohne Versandkosten.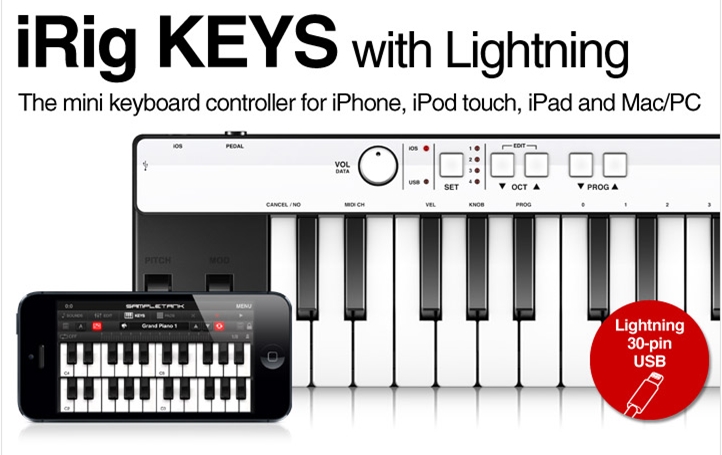 Beschreibung:
Das ganz neue iRig Keys with Lightning lässt sich direkt per Adapterkabel mit dem neue Lightning Connector von iPhone, iPad & Co (per USB auch mit PC und Mac) verbinden. Mit seinen 37 Mini-Tasten und seinem platzsparenden Auftreten ist iRig Keys zudem extrem portabel und findet sowohl im Rucksack als auch auf dem unaufgeräumtesten Schreibtisch Platz. Strom bezieht das Gerät über den angeschlossenen Host, aber nur dann wenn eine entsprechende Musik-App geladen wird.
Mit seinen fünf beleuchteten Tastern, Volume-/Data-Regler sowie einer integrierten Edit-Funktion ist der iRig Key Controller für Session, Songwriting und Live-Performance gerüstet, – selbst an den unmöglichsten Orten.
Funktionen:
• 37 velocity-sensitive mini-keys (3 full octaves range plus one note)
• Includes Lightning, 30-pin and USB cables.
• Modulation and pitch bend wheels
• Volume/Data knob (assignable)
• Octave/Program Up/Down back-lit, soft-touch buttons
• SET button to store and recall 4 different customized setups
• Input for an optional sustain or expression pedal
• Core MIDI (iOS) and USB class compliant (Mac/PC) – plug and play
• Powered from the iOS device or Mac/PC USB
• Comes with SampleTank FREE iOS and iGrand Piano FREE apps (download from the App store)
• Comes with free Mac/PC virtual instrument: SampleTank 3SE (download from IK User Area)