Leadmusic, Genf - Schweiz
2 rue Albert-Richard,
+41 22 731 62 72

Preis auf Anfrage
UVP: CHF 205.00
incl. 7.7% MwSt. Ohne Versandkosten.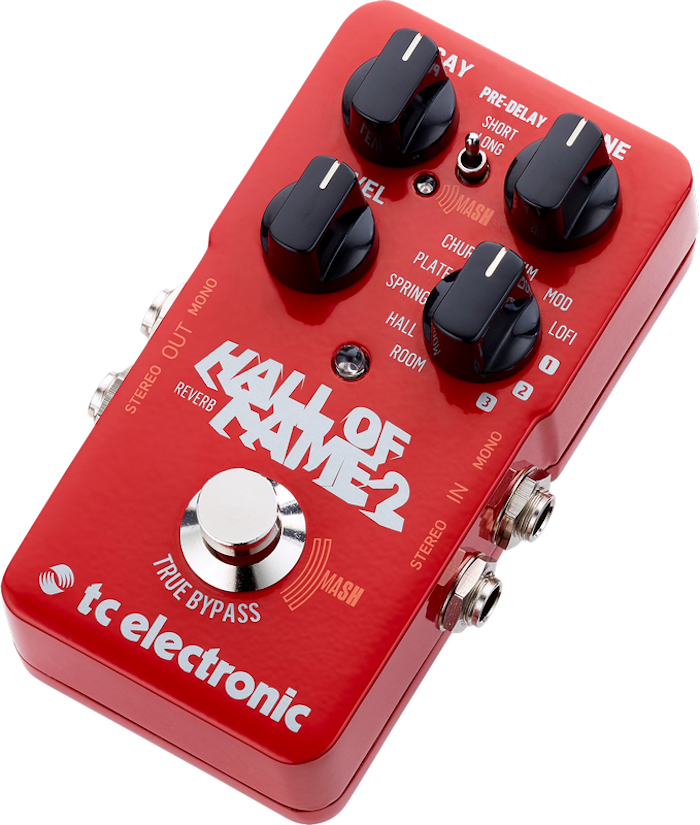 Beschreibung:
Mit dem TC Electronic Hall of Fame 2 Reverb präsentieren die dänischen Effektspezialisten die zweite Generation des beliebten Hall-Effektgerätes für E-Gitarre, die um eine Reihe innovativer Features erweitert wurde. So bietet das TC Hall of Fame 2 neben den sieben bewährten Sounds einen Shimmer-Reverb für sphärische Klänge und drei Speicherplätze für TonePrints. Eine Besonderheit ist darüber hinaus der innovative MASH-Fußschalter, der ein großes Expressionpedal zur Steuerung von Effektparametern überflüssig macht.
Funktionen:
Iconic reverb pedal returns better than ever with an innovative pressure-sensitive footswitch and an added shimmer effect
Groundbreaking Mash technology turns footswitch into a pressure-responsive expression controller
New shimmer reverb algorithm pitches your reverb up an octave through each feedback loop to give an other-worldly sound
Next-generation reverb algorithms give you phenomenal-sounding realistic reverb tones
TonePrint-enabled to let you beam cool signature tones into your pedal with the free TonePrint App
3 dedicated TonePrint slots for storing signature effects
Design your own customized reverb effects from scratch with free TonePrint Editor for PC, Mac, and iPad
Simple, easy-to-use controls let you focus on playing
True bypass allows for optimum clarity and zero high-end loss when the pedal is off
Works flawlessly with guitar and FX loop signals
Optional buffered bypass mode prevents high frequency loss from long cable runs Analog-Dry-Through maintains total integrity of analog dry signal path even when reverb is engaged
Designed and engineered in Denmark